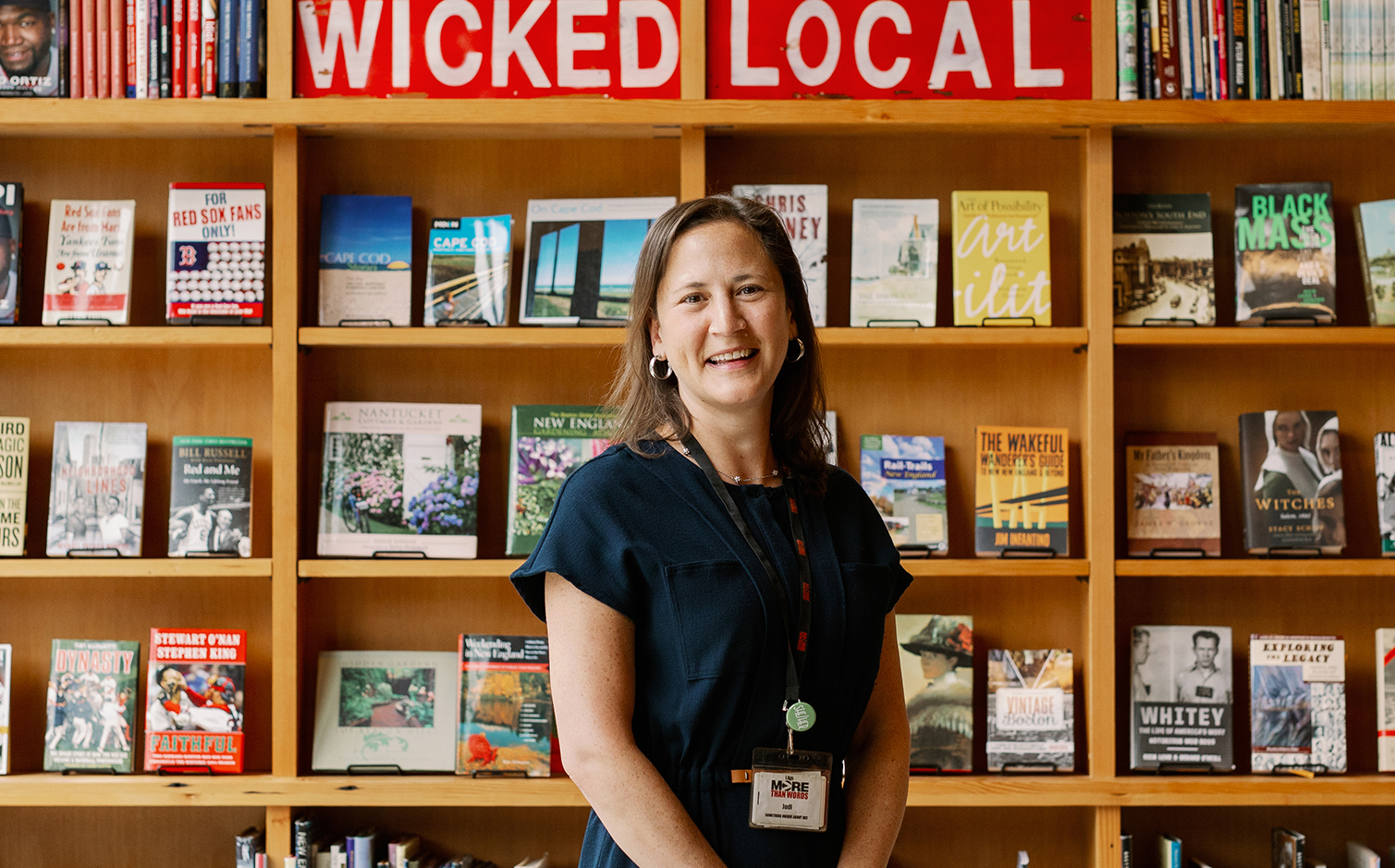 Every Day, People Build Businesses on Our Platform
Enabling economic opportunity and prosperity for all is at the heart of our purpose. Through our technology, we're paving the path forward for a more equitable economy by enabling sellers to tap markets that were once out of reach. With just a simple internet connection, anyone can participate in a global marketplace on eBay, where they can gain access to vast economic opportunity.
Retail Revival: Helping Small Businesses Thrive
Our innovative Retail Revival program helps train local business owners to sell their unique inventory in a global marketplace, while strengthening ties within their local business community.
Retail Revival celebrates Austin artisans by turning their craft into global businesses.
eBay's Export Revival program brings sustainable economic opportunity to small Greek businesses.
Retail Revival brings Baton Rouge retailers the tools and resources they need to expand their businesses globally.
Meet Kara Pendl of Karakotta Ceramics, who sells beautiful handmade pieces on eBay.
Bulgarian seller Lina Andreas brought her family's 20 year-old soap business on to eBay and sells a variety of scented products to customers worldwide.
Small businesses help keep Austin weird. eBay helping Austin retailers enlarge their customer bases brings Austin's unique creativity to people around the world and helps local artists and craftspeople to transform their ideas into thriving, global businesses.
The small business community in Baton Rouge exemplifies the vibrancy of our city. Baton Rouge has growing businesses in every sector, from retail and restaurants to innovative tech companies growing in our incubators. We're excited to work with eBay through Retail Revival.
Mayor-President, Baton Rouge, LA
Greensboro is a city of makers. We have small businesses serving our community with everything from art to apparel to technology. We're proud to have this opportunity to partner with eBay to enhance our businesses and give them the tools they need to grow, compete, and succeed in the market.
Strong, independent small businesses have always played an important role in our local economy and in shaping our character of place. As Halifax and Nova Scotia are working to embrace the innovation economy, we are proud to have this partnership with eBay Canada.
Mayor of Halifax Regional Municipality
eBay will provide valuable support to city retailers in the wake of a challenging national retail climate affected changes in consumer behaviour and the economy. It is an exciting programme that will help businesses with their digital marketing and sales skills.
City of Wolverhampton Council Leader, Councillor
The Retail Revival program will allow us to further support the growth of small businesses throughout the city. Lansing's time is now, and it's an honor that eBay chose our city as the next leader in local businesses utilizing their online platform.
We're a proud partner with eBay; we're very excited for them to be here. They're going to give us the expertise for everyone to be able to compete in a global marketplace.
25 companies from Udmurtia were selected to take part in Export Revival. Our highest bid lays on online promotion of our exporters. Competitive companies would significantly enlarge sales markets by enhancing the target audience hundreds of times.
Governor of the Udmurt Republic
We welcome such initiatives for the training of small and medium-sized enterprises in the context of the country's digital transformation. Greek companies, using every digital too possible, can open their horizons around the world through e-commerce.
Deputy Minister of Digital Governance
Since a large number of small and medium-sized enterprises are already taking advantage of the opportunities provided by the platform for their development and growth, I consider it my duty to strengthen this effort as much as I can.
President of the Athens Chamber of Tradesmen
Regional Programs
eBay works with local city leaders, universities, and others in regions across the world to develop innovative small business programs to address specific retail challenges—always with the mission to scale solutions to benefit retailers in other communities.
Greece
eBay's Export Revival program celebrates the rich history of trade in Greece by supporting local entrepreneurs and bringing their businesses to a global stage.
By providing small to medium-sized businesses the tools and resources they need to grow and expand eBay grants access to millions of new customers worldwide, and helps to strengthen the local economy.
The program is under the auspices of the Ministry of Digital Policy, Telecommunications and Media and the Municipality of Athens, and is supported by ACT – Athens Chambers of Tradesman, SEV – Hellenic Federation of Enterprises.
Throughout the program, Greek businesses learn how to develop their business and operate their own e-shop on our platform. Benefits include a monthly training program taught by eBay experts; customized support; exposure to more than 183 million buyers in 190 global markets; a dedicated page on eBay.com highlighting the participants' products and a promotional campaign on eBay.
Bulgaria
Fifty local businesses completed eBay's Export Revival training in Plovdiv, Bulgaria at the end of 2019. By helping these businesses to sell locally sourced goods to global consumers online, the program aims to increase the region's exports and stimulate the economy.
Supported by the Bulgarian Ministry of Economy and the Municipality of Plovdiv, the four-week training program taught entrepreneurs everything from product presentation to helpful sales tactics to effectively sell online.
Local entrepreneurs' seminars were held in Plovdiv by eBay trainers and mentors, who paid individual attention to each participant and their specific challenges. "eBay's Export Revival program was an amazing opportunity to learn more about the platform. It helped us to present our company and products in the best way possible." says Lina Andres, Baba's Soapery Manager.
"There are currently 10,000+ eBay sellers in Bulgaria, and now 50 more companies have access to millions of buyers across the world," said Ilya Kretov, GM for global emerging markets at eBay. "Thanks to the business, government and regional authorities, export sales in Bulgaria may increase significantly, and this is something we are looking forward to."
Companies from different sectors joined the first of its kind initiative in Bulgaria, which resulted in 7400+ unique products listed on a dedicated Made in Bulgaria page. The products span women's fashion, baby goods, auto parts, leather goods, souvenirs, watches, cars assembling models and even handmade soaps.
Canada
Halifax, Nova Scotia, is home to Canada's first Retail Revival. The program helps local small and medium retailers reach new domestic and global customers through specialized ecommerce training, workshops and support.
Launched in March 2019, in partnership with the Halifax Partnership, Atlantic Canada Opportunities Agency (ACOA), Nova Scotia Business Inc., and Saint Mary's University, the program aims to help 59 retailers grow online through eBay.
Halifax, en Nouvelle-écosse, est la première ville canadienne à participer au programme Relance du commerce de détail d'eBay. Ce programme aide les petites et moyennes entreprises à accéder à un bassin de nouveaux clients à l'échelle nationale et internationale grace à un soutien, à des formations et à des ateliers spécialisés en commerce électronique.

Lancé en mars 2019 en collaboration avec Halifax Partnership, l'Agence de promotion économique du Canada atlantique (APECA), Entreprises Nouvelle-écosse Inc. et l'Université Saint Mary's, le programme vise à aider 59 détaillants à développer leurs activités en ligne sur eBay.
Israel
In March 2019, we launched the Retail Revival program in Israel, in cooperation with the Joint-Link program and the Ministry of Labor and Social Affairs, to promote social and employment integration by creating an eCommerce community.
The program is designed for manufacturers, business owners, and suppliers in the Galilee with a focus on the settlements of Yarka and Sakhnin, including manufacturers and suppliers in the fields of handicrafts, jewelry, clothing, and others.
"eBay offers a unique opportunity for small business owners in the Galilee, with its vast purchasing power of active buyers from around the world," said Anna Pelkin, Head of Business Development for Israel and Eastern Europe. "This is a business lever for business owners in the Galilee and a great example for business owners all over the country to create new opportunities in the field of eCommerce."
Fifty-five business owners selected for the project are benefitting from a comprehensive five-session training course that provides local business owners with tools for setting up an online store on eBay, as well as a personal coaching program by eBay experts, enrichment lectures, and special benefits for participants, such as exposure and promotion.
Content meetings are delivered in two tracks tailored to merchants familiar with the contents of the online trade and merchants without prior knowledge. The program also provides training for business management, including product photography, inventory raising, marketing, and more.
Retail Revival is one of a series of investments made by eBay in Israel to promote the small business community and encourage exports and innovation.
Read Our Latest Retail Revival News
Shop Retail Revival
Find unique, inspired items and support local economic development in cities around the world by shopping Retail Revival businesses.
Always Open on eBay
No matter the time, day, or distance, shoppers can always find great deals and unique inventory at local retailers worldwide. Customers simply scan a QR code on the store window of participating sellers or visit?Always Open on eBay?to explore the store's inventory.